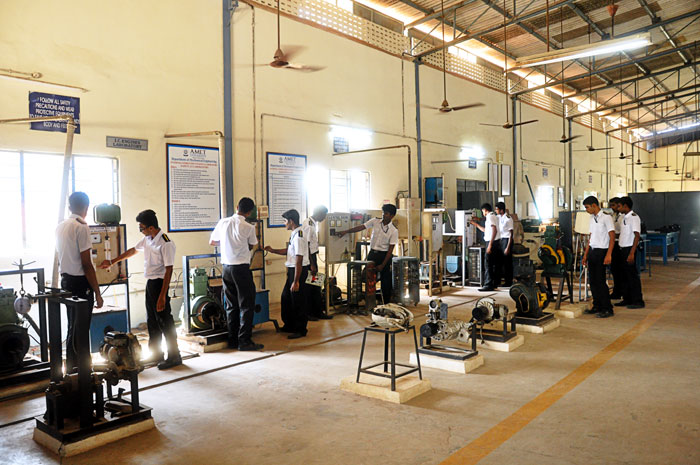 Duration: 2 years - 4 Semesters

Eligibility:
Pass with Minimum 60% in B.E./B.Tech in any one of the under mentioned programmes or equivalent qualifications

Mechanical Engineering
Automobile Engineering
Chemical Engineering
Aerospace Engineering

Sanctioned Strength: 16

Mode of Selection: Entrance Examination / Personal Interview

Boys and Girls are eligible to apply.


Programme Educational Objectives(PEO)
PEO 1: Become successful Engineers who are able to competent, innovative in addressing the needs of the Industry and in pursuing research.

PEO 2: Grow their technical skills which could help them throughout their career.

PEO 3: Demonstrate high standard of ethical conduct, positive attitude and societal responsibilities.

PEO 4: Render solutions for real time problems in thermal and fluid power systems.

PEO 5: Design and develop new products based on demand.


Program Outcomes (PO)
PO 1: Ability to apply the knowledge acquired in subject areas like, Mathematics, Basic Sciences, Engineering Sciences, Professional Subjects and Environmental Issues;

PO 2: Strong foundation in theoretical/experimental work for being able to analyze, synthesize and design engineering products, processes and systems as desired;

PO 3:Expertise in collecting field data, designing and conducting experiments in the laboratory/elsewhere and analyzing/interpreting the results:

PO 4: Capacity to function in multi/inter-disciplinary teams with a spirit of tolerance, patience and understanding so necessary for team work;

PO 5: Competence to acquire knowledge on one's own through libraries/data bases for contributing to knowledge assimilation, creation, dissemination & life-long learning;

PO 6: Better understanding and acceptance of professional, social, moral and ethical responsibilities and good knowledge of contemporary issues;

PO 7: Familiarity with seeking pollution-free and/or environment- and energy- friendly solutions to day-to-day problems faced by the society at large.

PO 8: Broad education necessary to get a perception of the impact of solutions provided for developmental issues in a global/societal context;

PO 9: Capacity for rational, objective, orderly and logical thinking and ability to communicate with fellow professionals/society effectively in written/oral forms; and,

PO 10: Good attitudes and skills in personnel management and maintenance of human relations, required in every ones working life.

PO 11: Through knowledge and compliance to all applicable national and international requirements and standards.