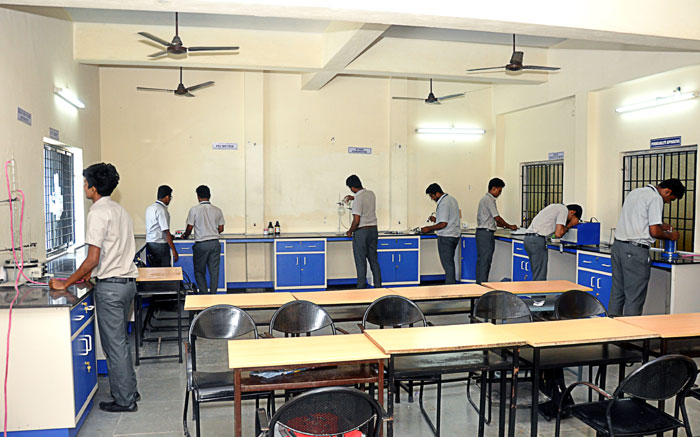 Duration: 4 years

Eligibility: A pass in plus-two (12th standard) or its equivalent, with minimum 50% Marks for OC and 45% for others aggregate in Maths, Physics and Chemistry Group from any recognized Board.

Sanctioned Strength: 30

Mode of Selection: Entrance Examination / Personal Interview

Lateral Entry: B.Sc Degree in Geology or Diploma in Mechanical or Chemical Engineering with 60% Marks. Good Communication and Writing skills in English and basic knowledge of computer science are essential.

Boys and Girls are eligible to apply.


Career Opportunities
Reservoir Engineers
Well Engineers
Drilling Engineers
HSC Engineers
Engineer (Operations)
Click Here to Know About Our Successful Alumni

Placement Opportunities
USA, Malaysia, UK, Norway, Iraq, Northern Gulf, Saudi Arabia, Southern Gulf, Indian Companies (New Delhi, Bangalore, Chennai)


Program Outcomes (PO)
PO1: Apply the knowledge of mathematics, science, engineering fundamentals and an engineering specialization to the solution of complex engineering problems

PO2: Identify and define engineering problems, conduct experiments and investigate to analyze and interpret data to arrive at substantial conclusions.

PO3: Propose an appropriate solution for engineering problems complying with functional constraints such as economic, environmental, societal, ethical, safely and sustainability.

PO4: Perform investigations, design and conduct experiments, analyze and interpret the results to provide valid conclusions.

PO5: Select/develop and apply appropriate techniques and IT tools for the design & analysis of the systems.

PO6: Give reasoning and assess societal, health, legal and cultural issues with competency in Professional engineering practice.

PO7: Demonstrate professional skills and contextual reasoning to assess environmental/societal issues for sustainable development.

PO8: Demonstrate Knowledge of professional an ethical practices.

PO9: Function effectively as an individual, and as a member or leader in diverse teams, and in multi-disciplinary situations.

PO10: Communicate effectively among engineering community, being able to comprehend and write effectively reports, presentation and give/receive clears instructions.

PO11: Demonstrate and apply engineering & management principles in their own/term projects in multidisciplinary environment.

PO12: Recognize the need for, and have the ability to engage in independent and lifelong learning.